Mike Holleman
Attorney at Law
Mike Holleman graduated second in his class (magna cum laude) at the University of Mississippi School of Law and was admitted to the Mississippi Bar in 1981. Mike's desire to become a lawyer grew out of the experience as a young boy of watching his father, famed attorney Boyce Holleman, try cases and give speeches about the Rule of Law and our great system of justice. Mike inherited some of Boyce's best traits as a lawyer, including empathy, compassion, a sense of justice and mercy. Boyce was a strong District Attorney for South Mississippi from 1953 to 1972, and a famous trial attorney known throughout the country. Boyce modeled these characteristics as a lawyer and in all of his affairs.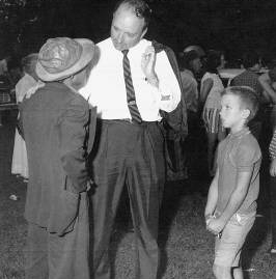 After joining his father's firm, Mike practiced law at his side for 15 years. During and since that time, Mike represented plaintiffs in serious and significant personal injury and wrongful death cases. In some cases, Mike's successful efforts led to decisions by some manufacturers to modify their defective products to make them safer or to recall the products, to prevent further injury or death.
Whether representing the survivors of a loved one taken from them by the negligence or defective product of another or the seriously injured victims of car, truck or heavy equipment accidents, the lessons learned from his father have served Mike's clients well.
A lawyer that does not have the capacity to empathize with and understand the profound effects that the wrongful death of a loved one or a serious injury has on his clients has no capacity to convey that loss to a jury in a way that will result in a substantial jury verdict. When you hire Mike Holleman, you will know your case is getting the experienced attention it deserves; you will know he has his heart in your case and your recovery.
Mike Holleman is very involved in the legal and local community. He has served on the Committee for The Mississippi Bar Lawyers and Judges Assistance Program (MLJAP) beginning in 2004, serving as Chairman of that committee from 2009 to 2011. Mike has also served on the Criminal Law Committee and the Board of Bar Commissioners for The Mississippi Bar.
"Always tell the truth. Being honest with your legal team will help us fight for the results you need and deserve."
If your loved one has been killed in an accident by the negligence of another or if you have been seriously injured in an accident caused by or contributed to by another, then you need an attorney who is experienced in handling serious personal injury and wrongful death cases. You need an attorney that cares about your case and knows what to do about it. While no attorney can guarantee results, Mike Holleman's track record of successfully handling cases in Gulfport and throughout the Mississippi area speaks for itself.
Mike Holleman has been helping people in a multitude of areas, including, but not limited to
Premises liability cases

Business litigation and contracts
Personal Investment in Each Client
One of the reasons Mike Holleman started his own law firm was to provide that one-on-one attention and continuity to clients. He will take the time to get to know you and answer your questions, and he is always accessible and supportive for the duration of the case. Clients quickly realize that Mr. Holleman invests himself heavily in his clients and their cases because he genuinely cares.
Bar Admissions
All State and Federal Courts in Mississippi

Federal District Court, Northern and Southern Districts of Mississippi

5th Circuit Court of Appeals
Professional Associations
Mississippi Bar Association
Awards
Alonzo Westbrook Public Service Award, 2006
Education
J.D. - University of Mississippi School of Law
FREE BACKGROUND INFORMATION AVAILABLE UPON REQUEST.